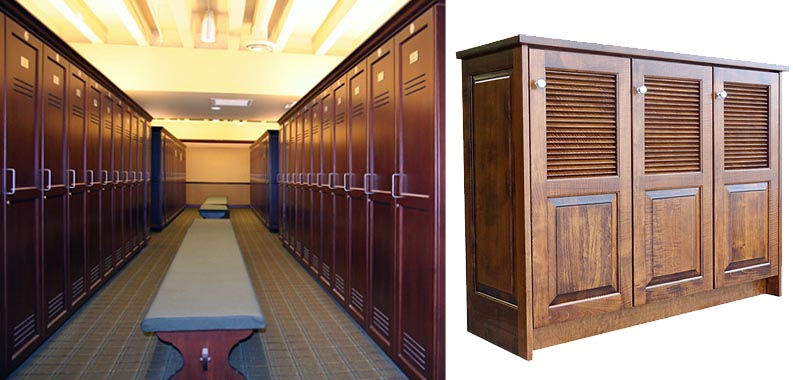 School Furniture Design Center offers a line of custom handmade Country Club Golf Lockers to fit your Country Club's specific locker requirements. You can design your own Country Club lockers to reflect your clubs personality and character. Our Country Club Lockers are made from the finest hand selected hardwoods. Our Country Club Lockers are designed and built with an emphasis on your golfers requirements coupled with quality materials and superior Amish craftsmanship.
School Furniture Design Center has also provided custom millwork for Country Clubs in the area with bars, bar stools, chairs, tables, fireplace mantels and cabinetry. Country Club Lockers usually need to fit into a specific space while satisfying the need to supply enough golfer lockers for members or guest. We can do single or double stack lockers with flush mount or insert doors. Just like our fine kitchen cabinets, you can have doors designed to fit your country club decor. We can also do reproductions to match existing lockers or we can replicate antique lockers to accent existing furniture in your club. If your need is for custom finished solid wood golfer locker for your home, we can provide you individual golfer lockers made of the finest hardwood with or without a finish or with just the right amount of distressing to match your specific needs.
Combine our custom lockers with built in display cases, bookcases or other fine cabinetry. Your clubhouse requirements may need to incorporate not only the golfers' lockers but also other custom furniture to provide uniformity with a warm and comfortable feeling. All perfectly matched to give your country club the comfort, quality and functionality that are required in today clubhouses. If you need to have custom poker tables, check out our poker tables here. Our finishing requirements include hand sanding and hand rubbing which results in an even and consistent color while enhancing the beauty of your lockers.
We are committed to the highest quality for our Country Club Golfers Lockers for a reasonable price. All hardwoods have variations in their color and grain our job is hand blending them together to bring out the natural beauty and character of each piece of wood.
Your Country Club Golfers Lockers starts off with your thoughts and ideas. You can send us a picture or drawing of what you would like. We will then come up with a shop drawing to finalize your unique locker room. We will provide you with sample stains on various woods so you can color match the lockers with other millwork in your clubhouse. We can provide matching display cabinets, bookcases, desk, entertainment centers, fireplace mantels, and bars, bar stools, chairs, tables, poker tables or custom furniture for your Country Club.
The following hardwoods are generally available: Oak, Brown Maple, Cherry, Rustic Cherry, Maple, Quarter Sawn White Oak, Hickory, Rustic Hickory, Elm and Walnut; additionally we have also used Ash, Beech, Clear Alder, Knotty Alder, Sap Cherry and other wood species in the creation of our fine furniture.
Back to Home Page